You can now view the corporate bond investment recommendations we presented May 31, 2018 by purchasing our investment newsletter subscription. We reviewed these with BondSavvy subscribers during The Bondcast on May 31, 2018 and recently posted the webcast recording online. Subscribers can see our new picks as well as all 16 current investment recommendations.

Note that, two months after presenting these corporate bond recommendations to BondSavvy subscribers, we also released the bond picks on the BondSavvy site, which is why we show the names and CUSIPs of the recommended bonds in Figure 1 below

Our new picks
We are recommending four new top corporate bonds. Three bonds have maturity dates between 2024 and 2026 and one matures in 2035. Issuing companies were in the following industries: IT, media, retail, and shipping/e-commerce tech. Please see the below summary of our new picks and subscribe to BondSavvy to gain access to all BondSavvy corporate bond investment recommendations:

Figure 1: Top Corporate Bonds Recommended May 31, 2018


Offer Price
on May 30*
Yield to
Maturity
Leverage
Ratio**
Pitney Bowes 4.625% 3/15/24
CUSIP 724479AJ9
85.45
7.8%
5.1x
L Brands 6.875% 11/1/35
CUSIP 501797AL8

91.56
7.8%
2.5x
DISH DBS Corp 7.750% 7/1/26
CUSIP 25470XAY1

86.36
10.3%
5.0x
Citrix Systems 4.500% 12/1/27
CUSIP 177376AE0

97.98
4.8%
2.0x
* Prices as of 10:30am ET on the day prior to the May 31 edition of The Bondcast.
** Long-term debt divided by last twelve months' EBITDA (earnings before interest, taxes, depreciation and amortization)
We believe these recommendations provide compelling risk-return and offer an opportunity for capital appreciation as well as strong yields. New opportunities have continued presenting themselves so far this year, which is why it is so important to invest throughout the year rather than just 'setting it and forgetting it,' as many investors do by building bond ladders.

Benefits of Subscribing
Steve Shaw founded BondSavvy in April 2017 so more people could benefit from the many advantages corporate bond investments offer. BondSavvy's 100% focus is investing in individual corporate bonds, and this level of focus and expertise enables us to identify corporate bonds that have achieved higher investment returns than the leading corporate bond funds and ETFs.

When you subscribe, you gain immediate access to all 16 current BondSavvy recommendations (as of May 31, 2018). We present new sets of recommendations during The Bondcast, a quarterly live webcast that follows corporate earnings releases. Following The Bondcast, we post all of the information in the My Account area of BondSavvy, as shown in the below screenshot:
Figure 2: Screenshot of BondSavvy Subscriber Area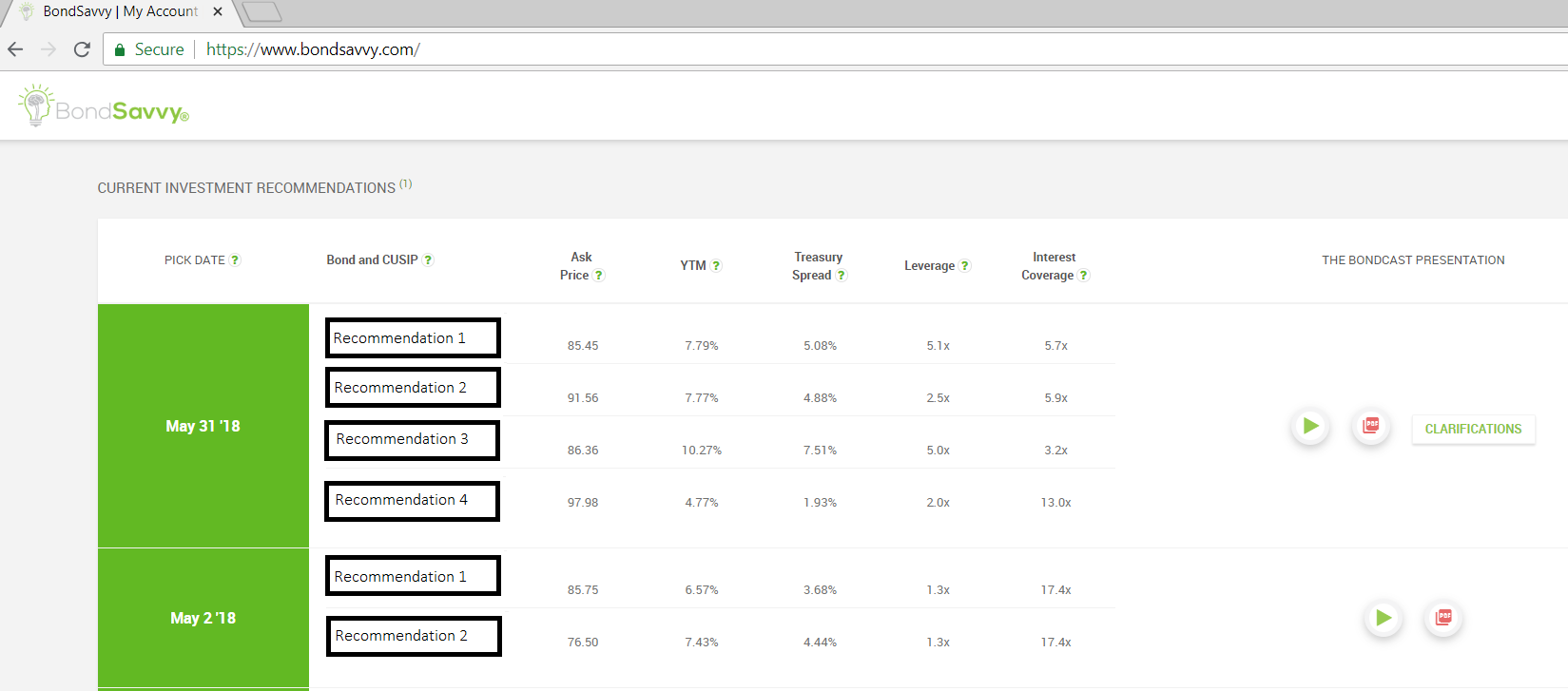 The column labeled "The Bondcast Presentation" is where we keep the recordings of The Bondcast so subscribers can learn about our investment recommendations and decide in which bonds they want to invest. In this presentation, we discuss the business of each issuing company and the rationale for each investment. We also compare each company's financial statements so you can understand the risk-return of each investment.

Conducting fixed income research and deciding which corporate bond investments to recommend takes time that many investors do not have. Our expertise is corporate financial analysis and understanding how bonds trade to identify investment opportunities. We serve all of this up in an easy-to-understand presentation that you can use to make successful corporate bond investments.


We hope to welcome you as a BondSavvy subscriber and that you enjoy our latest edition of The Bondcast.