Bondsavvy will update its 60+ corporate bond recommendations Thursday, November 16 @ 5:00pm EST during The Super Bondcast, an exclusive 60-minute investment webinar where Bondsavvy subscribers can ask questions. Below are answers to FAQs for this investment webinar:
What Do You Cover During The Super Bondcast Investment Webinar?
We present our bond recommendation updates each quarter during The Super Bondcast, an exclusive subscriber webcast hosted on Zoom. These update presentations include four sections:
Overarching investment themes and economic conditions
Bond issuer financial performance updates
Buy/sell/hold recommendation updates for each bond
Written reviews of issuer financial performance
We discuss each of these sections -- and provide sample PowerPoint slides -- below:
Section 1: Overarching Investment Themes and Economic Conditions
Before diving into the financial performance of our issuing companies, we need to understand the overall corporate bond investment landscape. We therefore kick off each edition of The Super Bondcast with a brief discussion on recent bond yield trends, Fed action, the economy, and other factors we expect to impact the performance of our corporate bond recommendations.
The below slide is from the July 13, 2023 Super Bondcast, where we discussed how US Treasury yields had been trending, some mixed financial performance of certain issuers, and the regulatory environment that was impacting merger-and-acquisition activity.
Bondsavvy founder and fixed income expert Steve Shaw leads each Super Bondcast investment webinar and provides a voice-over for each presentation slide.
Figure 1: Slide from Previous Super Bondcast on Overarching Investment Themes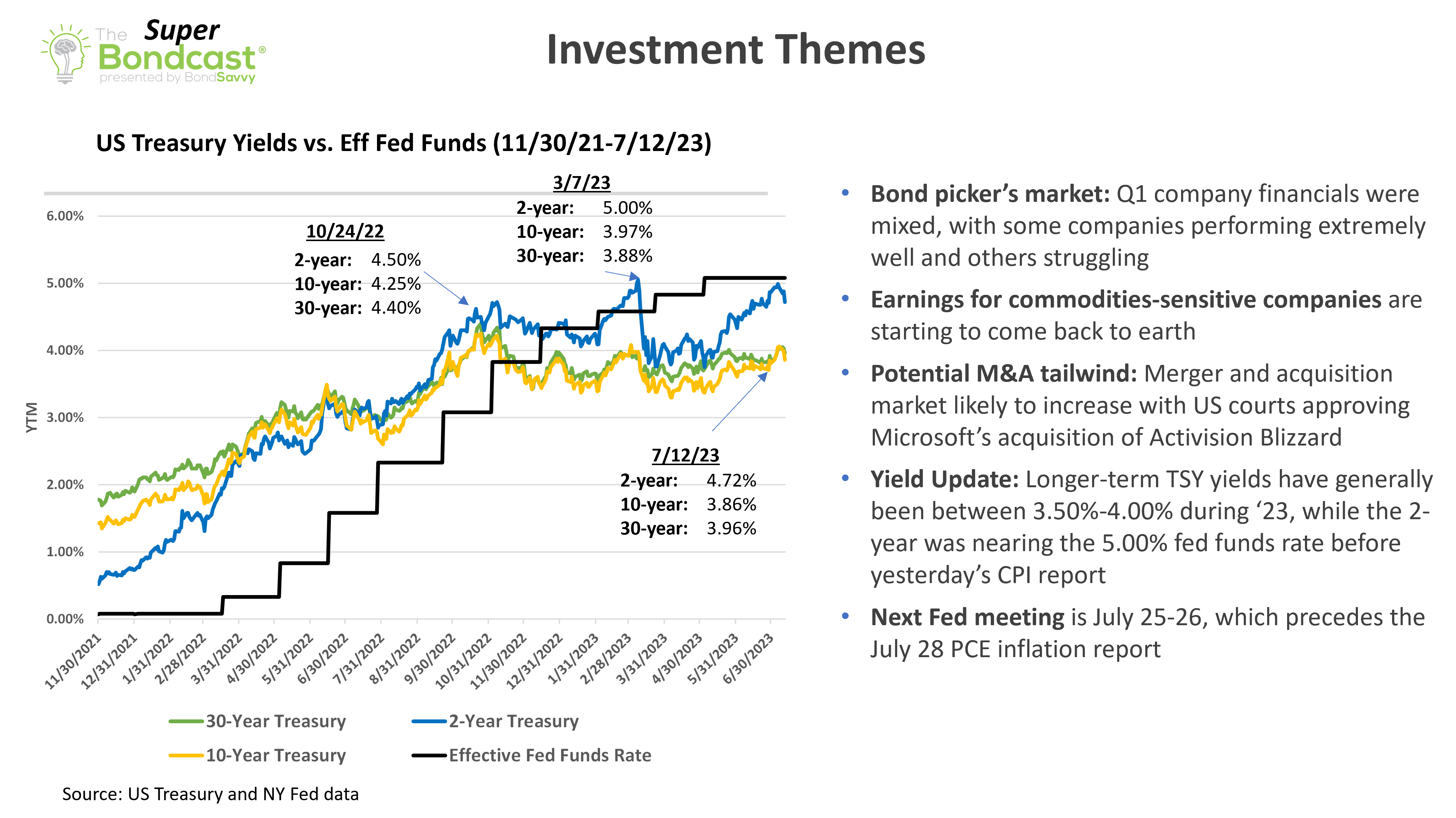 Section 2: Bond Issuer Financial Performance Update
After reviewing the overarching bond investment themes, we discuss the recent summary financial performance of our issuing companies. We group the issuing companies across pick dates and then discuss revenue and EBITDA growth, EBITDA margins, and any changes in bond ratings.
While we believe bond rating methodologies are generally flawed, changes in bond ratings can impact bond prices. They also provide a third-party opinion on a bond issuer's creditworthiness that is separate from the corporate bond research Bondsavvy provides its subscribers.
As shown in Figure 2, Bondsavvy's corporate bond recommendations include bonds with both investment grade and high yield bond ratings and a range of issuing company sizes.
Figure 2: Summary Financial Performance Slide from Previous Super Bondcast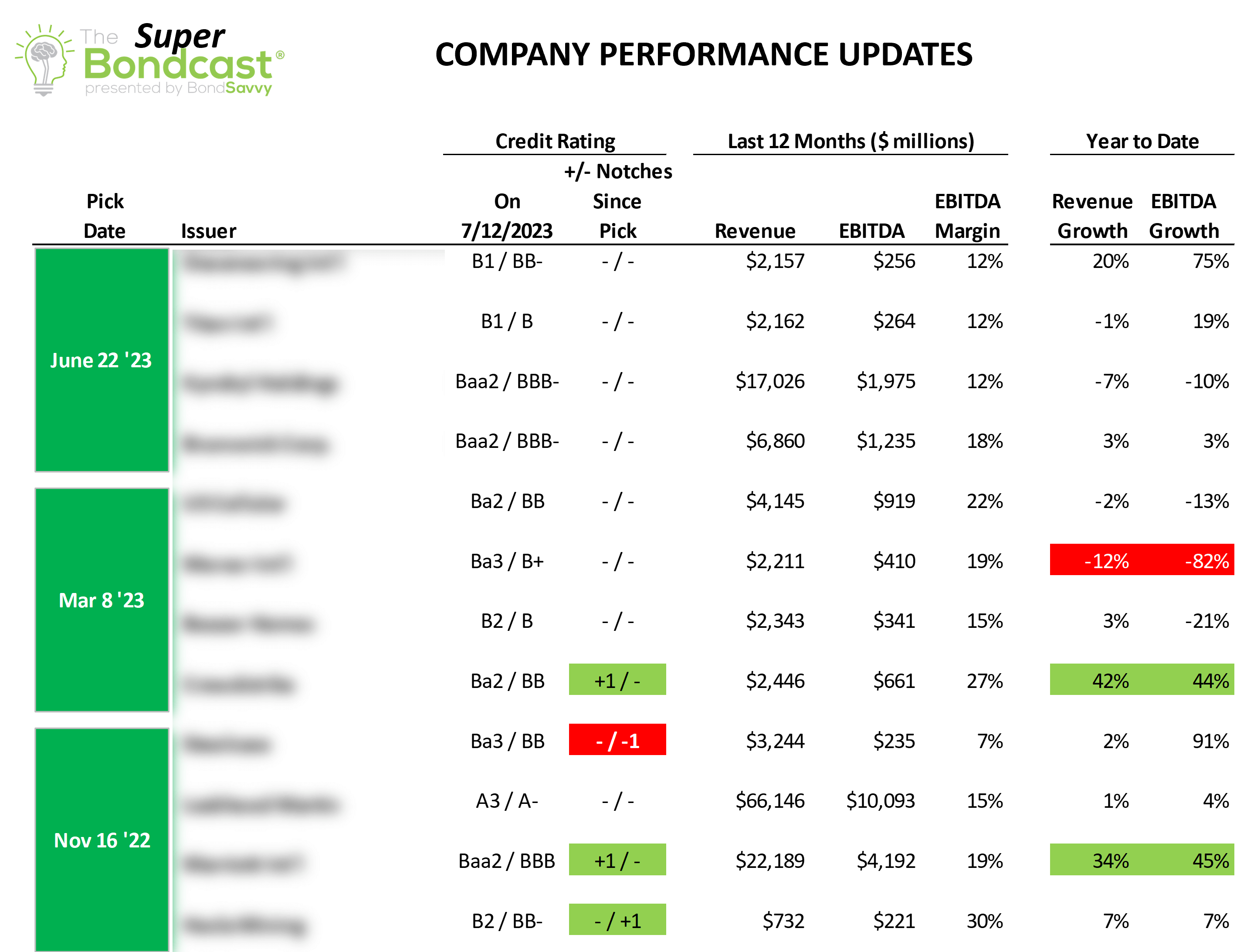 The slide represented in Figure 2 covered the financial performance of 12 issuing companies from our November 16, 2022, March 8, 2023, and June 22, 2023 bond pick dates. The one outlier, which showed a drastic drop in Q1 2023 EBITDA, was a pulp manufacturer, Mercer International. Given this company's weak Q1 2023 financial performance, on July 13, 2023, we issued a sell recommendation on the Mercer bond we recommended March 8, 2023.
Section 3: New Buy/Sell/Hold Ratings for Each Bond Recommendation
Our bond recommendations are a step up from traditional Wall Street fixed income research, as they are at the individual bond, or CUSIP, level. Most corporate bond research is at the issuer level and simply deals with whether an issuer's creditworthiness is getting better or worse.
Our recommendations identify specific bonds we believe are good values and can outperform the leading corporate bond funds and ETFs
Figure 3 shows a slide from a previous Super Bondcast that reviewed key bond price and financial metrics, as well as the updated buy/sell/hold recommendations. We show the financial and bond price metrics on the pick date as well as the day immediately before The Super Bondcast. This enables us to assess whether a corporate bond is a better or worse value than it was on the pick date and impacts whether a bond is a buy, sell, or hold.
Figure 3: Previous Super Bondcast Bond Pick Updates Slide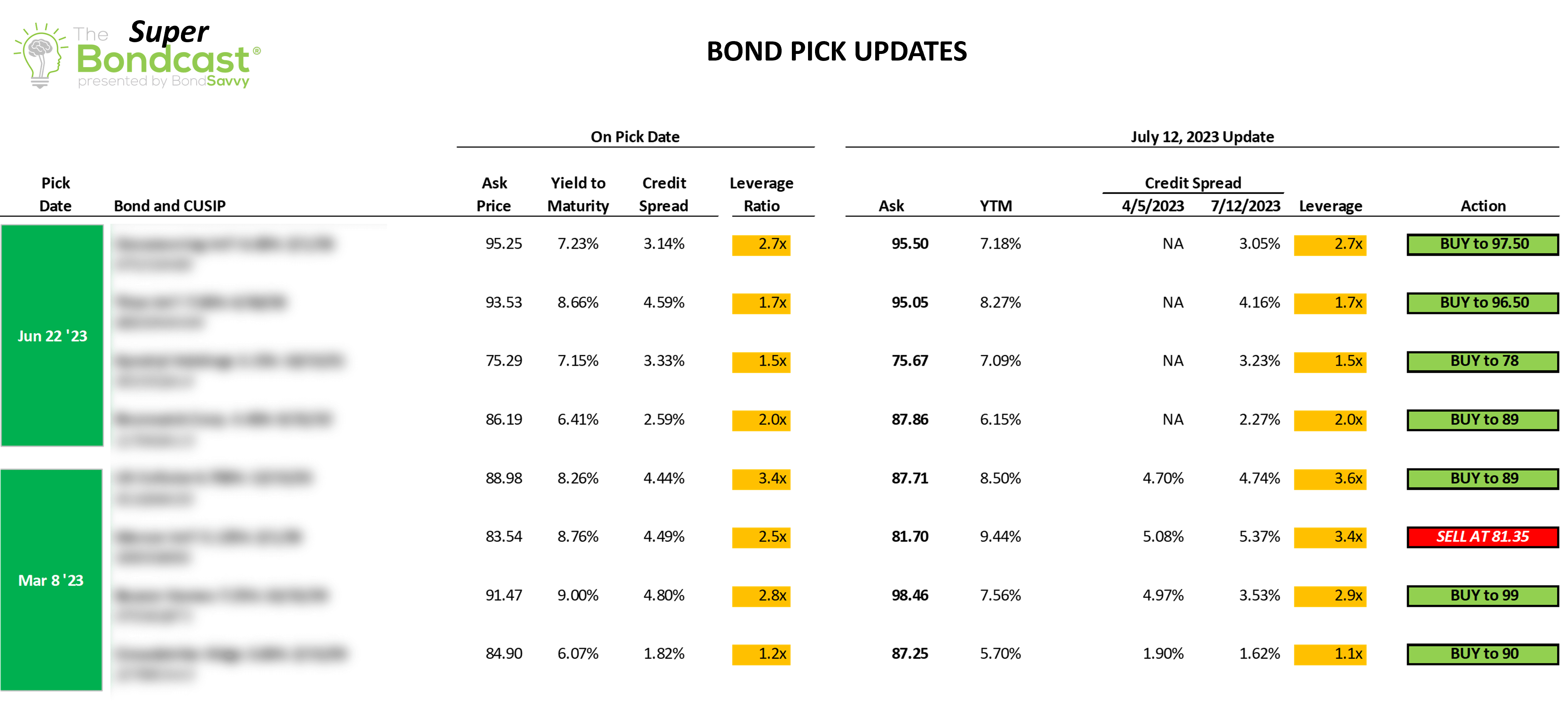 Section 4: Brief Written Reviews of Each Bond Issuer
Since The Super Bondcast investment webinar lasts only 60 minutes, we have limited time to spend on each recommendation. In cases when an issuer has reported weak financial results, we will typically spend additional time discussing such issuers at the beginning of The Super Bondcast.
We will typically end the webcast version of The Super Bondcast after Section 3. Then, after we post the recording of The Super Bondcast in the Bondsavvy subscriber area, we will complete written individual summaries for each bond recommendation.
These summaries will include details on an issuing company's financial performance, business trends, capital allocation, and upcoming debt maturities. They will also discuss forward guidance to the extent an issuing company provides it. We include these written financial updates in a PDF version of The Super Bondcast that we post in the Bondsavvy subscriber area.
Figure 4 shows a sample slide that covered brief written updates on two of our issuing companies:
Figure 4: Individual Company Written Update Sample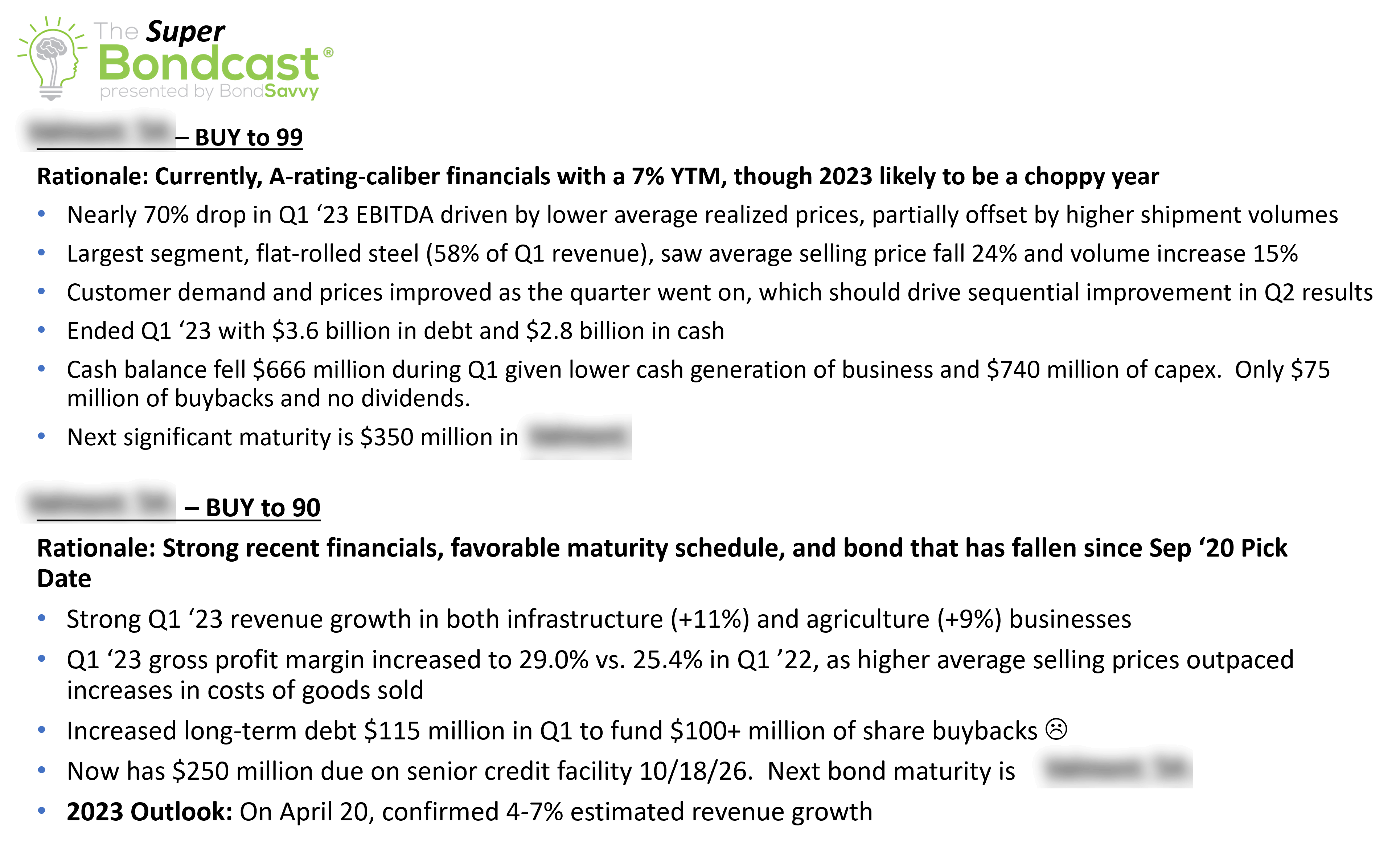 Are These Quarterly Updates the only Time Bondsavvy's Picks Are Updated?
No. In addition to providing quarterly bond recommendation updates through The Super Bondcast investment webinar, we also regularly update our recommendations through the Bondsavvy corporate bond investment newsletter. We notify our subscribers of these updates via email and post a PDF of each update in the "Updates" tab of the Bondsavvy subscriber area.
These additional bond updates would cover things such as tender offers, exchange offers, merger-and-acquisition activity, significant changes in a bond price, or any recommendation change that occurs between editions of The Super Bondcast.
How Many 'Buy' Recommendations Does Bondsavvy Currently Have?
Of our 60+ current recommendations, 34 were rated 'buy' on November 12, 2023. Click the "Picks at a Glance" button on the subscribe to Bondsavvy page for a snapshot of our bond recommendations. Read our Best Corporate Bonds To Buy 2023 blog post to learn more about our 2023 bond picks, as well as the maturity dates, YTMs, and industry groups of our 60+ corporate bond recommendations.
How Do I Gain Access to The Super Bondcast Investment Webinar?
The Super Bondcast is only for Bondsavvy subscribers. Subscribe to Bondsavvy to sign up. In advance of The Super Bondcast, we email all Bondsavvy subscribers Zoom details for this exclusive subscriber webcast. Upon subscribing, you will gain immediate access to our 60+ corporate bond recommendations and the webcast presentations that support each recommendation.
What if I Cannot Join the Live Event on November 16?
Bondsavvy records all subscriber webcasts and posts recordings of our live events within several hours after the event concludes.
We hope to see you Thursday, November 16 for The Super Bondcast. Let's get Bondsavvy!