Platform offers an educational crash course and The Bondcast series to empower people to invest in individual corporate bonds
New York, NY — June 28, 2017 — Steve Shaw, the former head of Tradeweb Direct who helped make low-cost electronic bond investing available to retail investors, is now further empowering people to invest in individual corporate bonds. In a new venture, Shaw is targeting widely popular bond funds by exposing the conflict of interest large Wall Street firms face when placing their clients in these funds, whose high fees can reduce client returns. He seeks to free investors from this conflict by explaining the advantages of direct investments in individual bonds and by providing specific corporate bond investment recommendations that investors can apply to their portfolios.
Today, Shaw launches BondSavvy, a first-of-its-kind investor education platform focused on fixed income. Shaw, who has achieved above-market returns through his own fixed income investments, wants to help individuals understand how to select and buy corporate bonds to achieve strong returns, and to provide a much-needed alternative to pricey bond mutual funds. And because he does not earn fees or commissions on his customers' bond purchases, Shaw can offer unbiased, unconflicted investment advice.
Corporate Bonds: An Untapped Opportunity
Corporate bonds carry less risk than the stock market and can drive higher returns, yet very few investors have bought them and are generally uninformed about how to make these investments. Moreover, the number of publicly traded companies has fallen nearly 50% over the last 20 years, leaving investors with fewer investment options in the stock market. In contrast, corporate bond issuance has been growing, totaling over $1.5 trillion in 2016, which was 7.7 times that year's total stock issuance of $197.5 billion.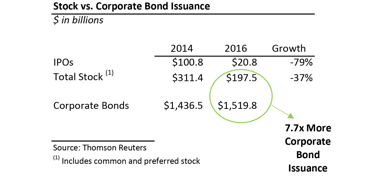 Many people who invest in fixed income do so through bond mutual funds; however, fund fees can significantly erode returns, and funds lack two important pieces of bond investing: return of principal and a fixed coupon. Bond mutual funds typically put billions of dollars to work over hundreds or even thousands of bonds, which requires them to hold many underperforming bonds and incur significant trading fees that hurt returns.
Taking the Fixed out of Fixed Income
"Bond mutual fund fees are a Wall Street annuity stream. They benefit Wall Street but hurt individual investors," says Shaw, who also spent time as an investment banker and a corporate executive responsible for investments and acquisitions. "Depending on your investor class, you often pay a fee to buy or sell the fund, which is on top of an annual fee as long as you have it in your portfolio. These fees can materially exceed what investors pay when buying individual bonds. Meanwhile, you give up control over your investments and lose the locked-in interest rate provided by a bond. Bond funds take the 'fixed' out of fixed income, and the fees you pay are a constant drag on your returns."
BondSavvy will open investors to new opportunities through an educational video in which Shaw walks through the methods he uses to select high-quality bond investments, as well as The Bondcast series of live events and recorded webcasts, where Shaw will reveal handpicked corporate bond investment recommendations 10 times per year.
"Everyone is searching for yield, but many investors are missing out on pure exposure to corporate bonds," says Shaw. "BondSavvy is an accessible and much-needed resource, distilling mountains of information into a few need-to-know numbers that investors can use to make better bond investment decisions. I've achieved strong corporate bond returns, and I want to share my knowledge to help other investors succeed."
An Experienced Investor with a Savvy for Bonds
Steve Shaw founded BondSavvy after spending 20 years as an executive and investment banker, evaluating the financial health of hundreds of companies in a wide variety of industries. As a senior executive at Tradeweb and BondDesk from 2008 to 2013, he learned the intricacies of corporate bond trading and headed a successful electronic bond trading platform designed for individual investors. Shaw's own personal investments in high-yield corporate bonds generated a 31% annualized return in 2016.
"Before I started working in the fixed income industry, I thought bond funds must be a good investment," Shaw adds. "But technology has made investing in individual corporate bonds accessible to retail investors. Investors won't benefit from this progress, however, if they invest in the wrong bonds – which is where BondSavvy comes in."
Become BondSavvy
BondSavvy is focused, above all, on investor education. Individuals can learn the fundamentals of corporate bonds and how to invest in them through a game-changing video, The Crash Course on Corporate Bond Investing, available here on the BondSavvy website. On July 25th, Steve Shaw will host the inaugural edition of The Bondcast, where he will reveal specific corporate bond investment recommendations. He will host this event at the Hyatt Regency in Morristown, New Jersey (3 Speedwell Avenue), and it will be available to participants around the country through the BondSavvy website. You can view this and all BondSavvy recommendations by purchasing a bond newsletter subscription.
###
About BondSavvy
Founded in 2017 by bond market investing expert Steve Shaw, BondSavvy aims to open the world of direct corporate bond investment to individual investors, helping them achieve higher returns. BondSavvy's Crash Course on Corporate Bond Investing is an educational video that covers the key pieces of information Shaw considers when selecting individual corporate bonds. Investors can also access live and pre-recorded editions of The Bondcast, where Shaw will share specific corporate bond investment recommendations to help investors make informed decisions. Steve Shaw has significant experience in financial analysis, investing and the bond-trading industry, and his proprietary strategy resulted in annualized returns of 31% in 2016 for his high-yield corporate bond investments. For more information and to view the Crash Course and register for upcoming editions of The Bondcast, please visit www.bondsavvy.com.
Disclaimer: BondSavvy is not registered as an investment adviser under the Investment Advisers Act of 1940, as amended, or the securities laws of any state or other jurisdiction, nor is such registration contemplated.
Company Contact:
Steve Shaw
BondSavvy
steve@bondsavvy.com